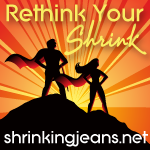 A new year and a new challenge. If you haven't read
this awesome and amazing post
you should. Go on, you too might want to join in the shrinking jeans 7 week challenge. Not only is it a weight loss challenge, but a life style changing challenge as well.
Re-think your shrink.
Plain and simple, right? It is that time of year where people start their diets but sadly loose steam early on. That's where the sisterhood of shrinking jeans wants things to change. We want people to change not only their diet, but also their exercise plans. Then continue to encourage and support each other.
So here I go again.
1. My food plan. I am not counting calories, but will try and record my food. Also I plan to make better choices and eat less junk food.
2. As soon as I find my treadmill underneath all our clothes, I plan to start the couch to 5K program that I started when I got pregnant. Also I plan to continue the (restart) the
Wii
EAS
Active.
3. Support? I got it. I started back being a contributor at shrinking jeans again and will be meeting and chatting it up with all the lovely people!
You want to join in?
It will be a fast 7 weeks to smaller jeans!
Here are my number to start this challenge. I lost 9# last round but unfortunately over Christmas I gained 5#!!! (i just about ate an entire box of pretzel crackers)
I was 203#
today I am 208# (but not for long)
Hopefully next week I will be back down to where I was last week. This challenge I am hoping to get to 198#. It can be done, right? Right.