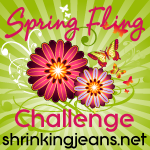 It's the Spring Fling over at
Shrinking Jeans
. Our new challenge starts today.
It's going to be a busy month over at the sisterhood!
Why you ask??
Well, because yours truly is
heading up the next 30 day shred
(pray for me and my thighs)
I may not be around here as much, but you can always hop over
there
and cheer
all of us on. Really, who doesn't like to get cheered on!
You wanna join in the fun?
We are
giving away 11 copies
, but only for 24 hours.
Go now!
Hurry and report back
there
March 1st
for the start of the 30 day shred.
Will you be joining me?
I hope so.